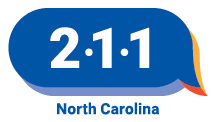 NC has activated 211 as the non-emergency hotline for COVID-19 information. Please dial 2-1-1 for updated information, or visit www.nc211.org. The 211 call center is experiencing extremely high call volume at this time. If you have internet access, please visit www.nc211.org to search for help, and be sure to use simple keywords, like "food" or "rent" to get the best results.
What is 2-1-1?
Help when you need it most. Dial 2-1-1 or visit www.nc211.org to connect with a network of over 18,000 resources right here in North Carolina. Our call center experts and website can assist you with:
Employment Assistance
Food Pantries
Homeless Shelters
Counseling
Health Care
Child Care
Senior Services
If you have COVID-19 Vaccine related questions, please visit the Henderson County Department of Public Health website.
Here are some Henderson County resources for common needs:
Call the MANNA Food Helpline at 1-800-820-1109
For Food deliveries or for Seniors, call Council on Aging at 692-4203
        Call the Henderson County Department of Social Services at 697-5500
        Call Interfaith Assistance Ministries at 697-7029
        Call Salvation Army at 693-4181
        If you are homeless, call Thrive at 697-1581
        If you are in danger of eviction, call Pisgah Legal Services 692-7622
Call The Free Clinics at 697-8422
Call Blue Ridge Health at 692-4289
  If in immediate danger – call 911
        Otherwise, call Safelight at 693-3840
  If this is an emergency, call 911
        Otherwise call Mobile Crisis at 1-800-848-0180