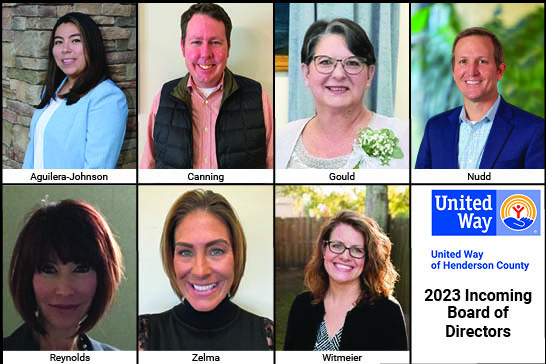 United Way of Henderson County (UWHC) has added seven community leaders to its 2023 Board of Directors: Paula Aguilera-Johnson, Joe Canning, Debi Gould, Brandon Nudd, Michelle Reynolds, Misty Zemla, and Melissa Witmeier. 
"We are thrilled to welcome these new members to the United Way Board," said Lew Holloway, UWHC Board Chair. "Their industry knowledge, community connections, and passion for our community and United Way's mission and work will make them real assets to our group. Our organization is fortunate to have a diverse group of leaders serving on our board who are fighting for the health, education, financial stability and basic needs of everyone in our community."
Aguilera-Johnson is the Member Engagement and Events Coordinator for the Henderson County Chamber of Commerce. Paula's professional career began as an Assistant Sales Manager for Verizon Wireless. In 2012, Paula began working with AFLAC where she led an initiative to educate Charlotte's Hispanic community on healthcare reform. Through this work, Paula was introduced to the Latin American Chamber of Commerce of Charlotte, which pivoted her professional career to the non-profit sector. Paula was later recruited to work for the organization, where she served as the Director of Membership and Programs for three years before relocating to Western North Carolina in 2019. She is a Summa Cum Laude Alumna of Blue Ridge Community College.
Canning, the Plant Manager for Kimberly-Clark Berkeley Mills, originates from the great state of Ohio. Upon graduating from the University of Toledo with a Bachelors of Business Administration, he started his career with Kimberly-Clark in supply chain management. Over the course of his 17-year career with K-C, Joe has held various supply chain and operations leadership positions across 6 manufacturing and staff locations. Joe holds an MBA from Georgia State University and Lean Six Sigma Green Belt certification. He's led the Berkeley Mills site since October 2021, where his focus has been on employee safety and engagement, developing long term site strategy, and delivering results for the Kimberly-Clark Global Nonwovens business.  
Gould is the Accounts Payable/Customer Relations Manager at Dampp-Chaser Corporation where she has worked for the past 9 years. Debi's first career was in nursing where she primarily worked Mental Health and Chemical Dependency settings. She later held administrative nursing positions in Quality Assurance and Risk Management. Debi has been an active volunteer with United Way for many years, serving on our program evaluation panels, as the employee campaign coordinator at Dampp-Chaser, and is in our Rising Leaders program.  She was also the Lead Volunteer at our biggest school project at East Henderson High for the 2022 Day of Action and is a member of our Small Business League. 
Nudd, is the President and Chief Executive Officer (CEO) for AdventHealth Hendersonville. He began his time in this role in August 2021 and oversees the day-to-day operations of AdventHealth Hendersonville. Prior to joining AdventHealth Hendersonville, Brandon served as Chief Executive Officer (CEO) of Castle Rock Adventist Hospital in Castle Rock, Co., which is part of Centura Health, AdventHealth's joint operating company with CommonSpirit Health. Before that, Brandon served as Chief Operating Officer at AdventHealth Gordon in Calhoun, Ga. and AdventHealth Murray in Chatsworth, Ga. The move to North Carolina brought Brandon back to AdventHealth Hendersonville where he was part of the leadership team serving as administrative director of organizational development and primary care services from 2011 to 2014.
Reynolds is the Administrative Director of Support Services for Pardee UNC Health. Michelle has lived in Henderson County since 1983 and began employment at Pardee Hospital in 1990. She has developed professionally through more than 25 years of experience in Leadership and completed an Advanced Leadership Academy in 2016. Before her position at Pardee Hospital, Michelle worked for a family business, Lambs Grocery in Hendersonville, and ran operations at The Country Market in Flat Rock. Michelle has co-chaired the United Way campaign at Pardee in years past and volunteers for supported events.
Zemla joined Cummins Meritor seven months ago as Senior Manager of Human Resources for the company's Forest City and Fletcher locations. Misty attended Indiana Wesleyan University and earned her Bachelor's degree in Business Management with a minor in HR Management. During her 9 years with Meritor, she worked as an HR Admin, Materials Planner, HR Generalist, HR Manager, and now a Senior HR Manager. 
Witmeier joined the Council on Aging for Henderson County (COAHC) as the new Executive Director in March 2023. Prior to her work with COAHC, Melissa was the Vice President of Grant Strategies for the Girl Scouts of Gateway Council in Jacksonville, Florida. In previous positions, she was the Director of Operations at EPIC Behavioral Healthcare in St. Johns County, Florida for over two years where she was the Quality Assurance Officer; managed the Prevention Department and Data Team; wrote grants and proposals which created programs in the St. Johns County School District for mental health linkages, Care Coordination and Peer Support for people with substance use disorders.